There were 1 posts tagged: Warranty Status
June 3rd, 2014 • 0 Comments
The Jabra warranty process has been brought together into one program called
ServiceNet
, an online service platform. From checking warranty, to following the status of the return order from beginning to end, this platform simplifies the warranty and return process. It is ideally suited for organizations with large quantities of Jabra products deployed, but is available to all Jabra product owners.
Set up a free ServiceNet account
by clicking here
. Simply provide your name, company name, address, phone number and e-mail address to set up your account. Within a few minutes, a ServiceNet login and password are created and e-mailed to you.
Once you log in, you can check warranty status with the
Warranty Checker
, request a replacement, and follow the status of the return order.
To check the warranty status of your Jabra product, simply enter the serial number within the Warranty Checker window. If you don't know where to find the serial number, the site has a click-through link: "How to Locate a Serial Number." Next, select from the choices of Headsets, Speakerphones, or Accessories. Scroll down the page to find your product. Once you select your product, a picture of where the serial number is located appears. Type in the serial number, click Next, and you will see if the product is under warranty.
If the product is still covered by warranty, you will see a screen similar to this: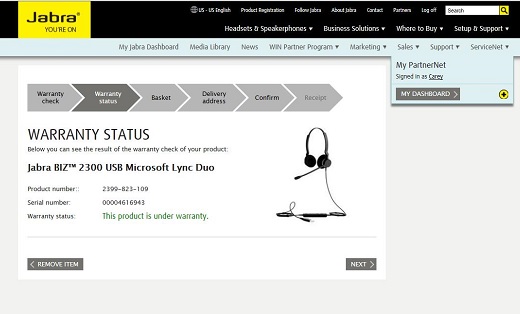 Click Next, and the Basket window appears.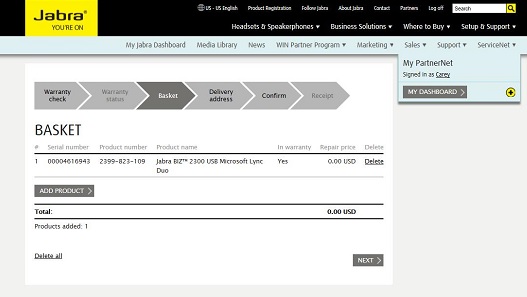 The Basket is automatically loaded with a new, replacement product at no charge. Click Next for your Address Book. You can add and save multiple addresses into this window: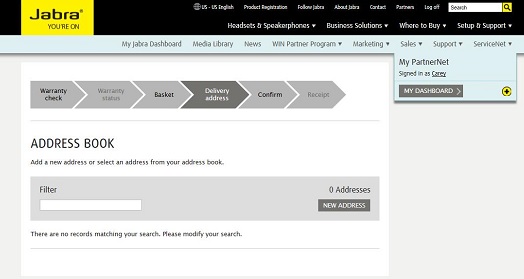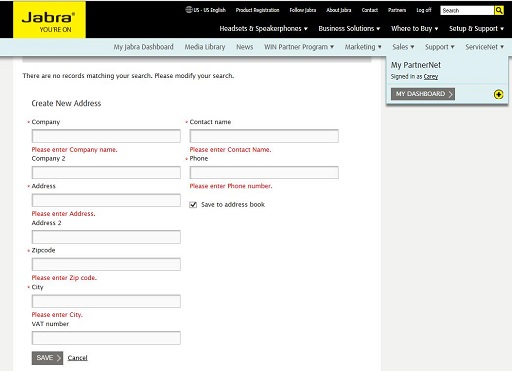 In the successive two screens, you will Confirm the order, and then get a Receipt. After submission, you can follow up on your warranty request by logging in and selecting Manage Your Orders. Here, you'll find all of your warranty history. It's a handy way to keep your Jabra warranty information in one place.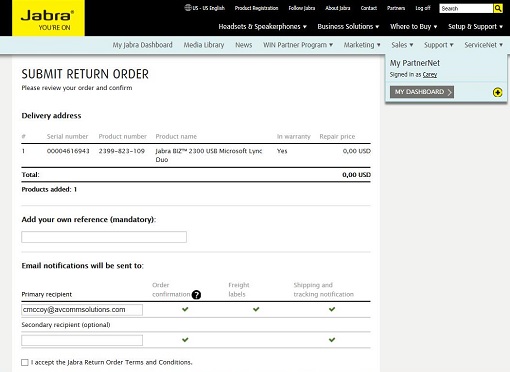 If your product is no longer under warranty, you will get this message: "This product is not under warranty. Please remove the out of warranty item from this order, and proceed with either inside warranty items only, or check the return process for outside warranty items by clicking
here
."
For Jabra's Warranty and Service Information, please click
here
.
We hope you find Jabra's ServiceNet to be a useful tool and a great way to keep track of your warranty replacements!