There were 2 posts tagged: Employee Retention
July 8th, 2014 • 0 Comments
GOOOOOOAAAAAAAAAL!
World Cup Soccer action is now a daily discussion here at Avcomm Solutions. While the majority of our employees are not rabid soccer fans, we thought it would be a fun team building activity. Each employee drew team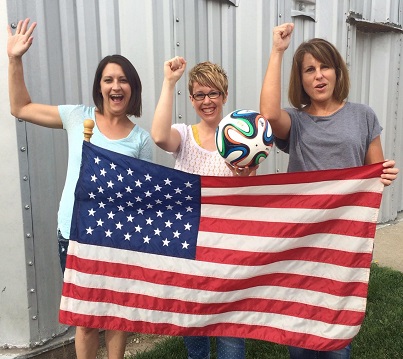 names out of a hat and prizes will be awarded to those holding the final four teams. During this month of soccer action, it has been quite a learning experience for everyone and has been fun to watch employees' excitement as their teams win.
Whether it's a major sporting event, season or holiday that brings the team together, employees appreciate when companies take the time to throw a little fun into their daily grind. Studies confirm that employees who are engaged in their work and loyal to their workplace, are less likely to leave employment. With the costs of hiring and training new employees, the benefits to retaining the employees you already have are sure to impact the bottom line.
Another activity that we've recently done is allowing employees the opportunity to give to a local charity as a corporate body. Here in Nebraska we have an annual event called the Can Care-a-Van where a TV station goes across the state to organize collections for local food pantries.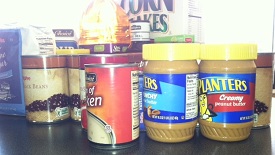 Over the course of a week's time in May, we asked that employees bring in their pantry donations and donated more than 80 pounds of food to the cause.
We hosted a Cinco de Mayo party in May, and each employee brought in a Mexican-themed dish for lunch so the team ate lunch together. The opportunity to eat together, and sample new recipes, was a great change of pace and a lot of fun. At Christmas,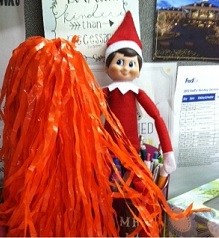 a cookie exchange brought the team together to trade delicious cookies, and a recent bridal shower for an employee was another great reason to party! At Avcomm this past Christmas, we had the office Elf on a Shelf named Sheldon. You never knew where Sheldon was going to turn up! One employee found Sheldon hiding in their pencil cup one morning, behind the pom pom!
Other workplace fun ideas have included volunteering for a community event together; Office Olympics; Christmas Cubicle Decorating Contest, Christmas party, summer picnic, and more. Working hard, and having some fun, too, keeps the Avcomm staff ready to best assist our customers!
Leave us a comment and let us know what you do at your workplace for fun and team building.
June 26th, 2014 • 0 Comments
Angela Garfinkel's
recent
blog post
about the 3 types of employee motivation programs for call center agents provided guidelines for programs that work – in both the short- and long-term. How and when to offer these programs is critical in their overall success toward meeting goals and enhancing productivity in call centers. Another key factor is what to offer for incentives. We gathered a list of ideas for incentives that have had success in various organizations. We would also love to hear about programs that your organizations have implemented that were proven to be beneficial. Please share your successes in our Comments section.
These ideas are listed in order of least to more expensive:
Choice to work on projects they prefer.
When an agent has met goals and earned the incentive, giving them a choice in the work that they do helps agent feel in control, and promotes buy-in and interest.
Certificates referring to goal met.
Certificates can then be posted in the agent's work space, or a community area, such as break room.
Employee of the Month Parking Spot.
This is a particularly valuable incentive if your organization has a large parking lot, and a parking space close to the building would be desirable.
Shift bids.
This is an easy one: give agents the chance to bid on a preferred shift time before other employees can bid.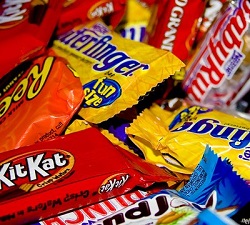 Favorite candy or soda.
Complimentary team lunch.
This can be a catered lunch on site, or if possible, meet the team at a restaurant and spend an hour or two eating and getting to know each other.
Money.
We found an anecdote on the Internet about a manager who spent his incentive budget on currency in denominations of $1, $5, $20, and $50 bills. Employees would reach in the bag to select their reward. People who selected the $50 got cheers, and the ones who got $5 knew that there were still $50 bills left in the bag!
Company gear.
Items such as clothing, mugs, or office supplies can be nice incentives.
Goody bags of useful tools for desk or home.
Tape, mini staplers, Post-It notes are a few ideas.
One extra 15-minute break time the day they meet goal.
This can provide a nice change of pace for a day.
Small tokens/prizes.
Koosh balls, small photo albums, crossword puzzle books or a decorative item for the agent's workspace can be a nice reminder of accomplishment while agents are on calls.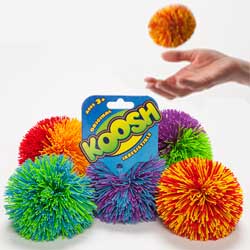 Afternoon snack from a fully-equipped snack cart.
How fun to have a cart roll past your desk at an appointed time and you get to choose any snack from the cart!
Gift certificates for massages, manicures, pedicures, movie passes.
This idea works if your agents would value these types of gift certificates.
Gift cards to favorite stores or restaurants.
Amounts can range from $5 (meeting a daily goal) up to $50.
Fun team activity.
Bowling, miniature golfing, volunteering together on a Habitat for Humanity build, attending a hockey game or other sporting event, are just some activities that could build team morale.
Flexible hours, paid time off.
This incentive involves your workforce management team, and would be more difficult to implement. For some agents, time is their most valuable resource; giving them some flexibility in their schedule, or an extra day off, could be a powerful motivator to reach goals.
This is not a comprehensive list of incentives, and we are always interested in hearing from you! Have you tried any of these incentives? Do you have a tried and true incentive that works well for your agents? Click on the orange Comments tab at the top of this post and please share your thoughts!