1/21/2016
Today's consumers are fortunate to have many different avenues to contact businesses: via mail; social media; chat, email; and of course, by phone. Companies are expected to provide stellar customer service in an efficient, expert manner and every communication with the customer provides the opportunity to build relationships, provide excellent customer service, and promote your brand and its message. No pressure, right?

In a webinar hosted by Plantronics, Neil Hooper from Plantronics stated, "100 percent of customer interactions will be in the public domain (due to social media)." If you are not providing an awesome experience to your customers, this is a terrifying thought!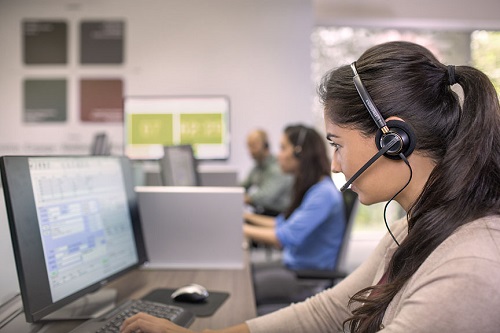 A key component to exceptional customer care is acoustics in your contact center. Colin Rawlings, the Tech Director of Acoustics by Design in the United Kingdom, shared some valuable information about good acoustics in your contact center. Background noise costs money. Simply put, when you provide a quiet and professional work environment where background noise is managed:


Stress is reduced
Absenteeism is reduced
Errors are reduced
Misunderstandings are reduced

Also: staff retention, call quality, productivity and customer satisfaction are improved.

To improve acoustics in your contact center, Rawlings suggests the ABC principle:
A – Absorb noise close to the source – the use of sound panels, wall panels, and freestanding office screens will provide noise absorption.
B – Block the direct path of sound – this can be accomplished by computer screens, desks and walls.
C – Cover/mask unwanted sounds –pipe in soothing water sounds, or electronic white noise.
And, a 4th item:

D- Discipline – correct microphone placement is critical: 2 finger width's away from the mouth is ideal.
Other things to consider:
Replace the voice tube regularly (they do get blocked) or, even better, use headsets with noise-cancelling microphones.
Replace the ear cushions on the headsets regularly. With regular use, the cushions can be broken down and can be uncomfortable.
Put these principles into play in your contact center and see if they are the differencemakers with your customers. Let us know if you have any additional ideas for good acoustics at your organization!
TAGS: Contact Center, Background Noise, Plantronics, Noise-Cancelling