Music in the Workplace: Amp Up Your Productivity
September 21st, 2016 • Comments
Tags: Motivation, Productivity, Open office, Business, Headsets, Communication is Our Business
Want to amp up your output at work and feel energized? Research suggests that listening to upbeat music can bring higher productivity and overall higher feelings of job satisfaction. Give your people the choice of listening to music and watch the work get done!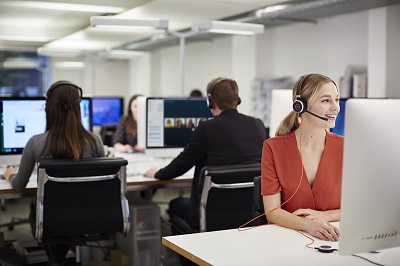 Rather than piping music that may not appeal to everyone over office speakers, perhaps a better choice would be individual music players (PC, Smartphones, Tablets)– with corresponding headsets – to personalize the experience. Connecting via USB, Bluetooth, or 3.5mm port, our headsets can handle any set-up. With the same headset, take and make phone calls, and stream your music in between. There is no "one size fits all" environment; providing a variety of headsets to choose from will give your staff the chance to choose the one that's best for them. Perhaps staying within a brand is recommended, to ensure some type of continuity within your organization.
The
types of music
matter, according to
this article
from The Telegraph.
Problem-solving or proofreading? Dance music is where it's at. This genre resulted in a higher overall accuracy and fastest performance across a variety of work tasks. Boogie on down to the best accuracy you've ever experienced – and faster!
If you're working with numbers or extremely detailed information, classical music should be blasting in the background. Spelling errors are also most accurately detected when listening to classical music (12% more!).
To keep up your momentum with data entry tasks, pop music is best. Instrumental, ambient music works well for equation solving. The music tempo can affect productivity – a faster tempo may heighten awareness and produce quicker results; a slower tempo can relax and help you focus on tasks. Overall, though, choosing music that you like best to listen to will ensure your good mood, thus raising your productivity. So, if that music is techno, country, screamo, or Gregorian chants, put that record on and groove.
Wearing a headset could be perceived as rude at your organization (depending upon the environment and expectations) – those with public-facing tasks would probably be discouraged from wearing headsets altogether. Taking regular breaks from wearing a headset may be a good idea to encourage camaraderie with co-workers.
Click on the Comments tab, above, and tell us your favorite music to listen to while you work!
Sources:
"Productivity"
Music Works For You
"The Power of Music, Tapped in a Cubicle"
New York Times
"Music and Productivity: 5 Ideas for Using Music To Boost Performance"
Psychology Today