Showing posts tagged: Bluetooth
12/16/2016 - 0 Comments
1. My favorite Bluetooth headset loses power quickly and the headset "dies" in the middle of a conversation. Can I replace the battery?
Typically, batteries cannot be replaced in Bluetooth headsets; however, this is dependent upon the headset you're using.
Contact us
and we can help determine

if a replacement battery is available for your BlueParrott, Jabra, Plantronics, Sennheiser or VXi headset.
2. The ear hook that came with my Bluetooth headset has been lost. Are there replacement ear hooks* available? *Or: ear gels, power cords, connection cables etc.
Yes, we have lots of accessories for your Bluetooth headset. Simply find your headset by using the "Search" bar on our web site, find your

headset, and click on the product listing. Once there, select the "Accessories" tab at the bottom of the product page. A complete list of available accessories will be displayed. If your headset has been discontinued, don't despair! We have accessories for some older model headsets – simply give us a call (
866-998-9991
) and we can help.
3. How do I pair my Bluetooth headset with a smart phone or tablet?
No matter which device you're using, you will need to enable Bluetooth in the Settings menu

of your device and your headset will need to be powered "on" and be placed in pairing mode. That way, the headset and phone/tablet can communicate and connect (or, pair). Follow the prompts on the smart phone/tablet and pairing is complete.
NFC (Near Field Communication) pairing is also available for some phones, and headsets. Contact us for additional help with pairing/connecting your Bluetooth headset to your smart device.
4. Is there a way to change the wearing style of my Bluetooth headset?
This is dependent upon the headset that you choose. Some headsets offer a choice in wearing styles; while others may have an add-on piece that can be purchased.
5. Can I use my Bluetooth headset with my laptop/PC?
Yes, provided you have a UC version of the headset. In plain English, a "UC version" is enabled to connect to a PC/laptop via the included

Bluetooth dongle that will plug into your laptop/PC via USB. The dongle must be paired to the headset out of the box. Contact us to ensure you have a UC headset.

Bluetooth headsets are incredibly useful, and more intelligent than ever, with voice activated commands in some models. When you have the right tools, taking and making calls, listening to music, and participating in webinars become second nature. Take advantage of these headsets to streamline your work and life! And with all of the wearing options available, the right headset is just waiting for you.
Contact us at
1-866-998-9991
and we can determine the best Bluetooth headset for your needs.
11/17/2016 - 0 Comments
A recipe for Unified Communications success: Take your existing headset, add in the MDA 200, and you get up to 3 connection options – the Plantronics MDA200 connects QD and USB headsets to both desk phones and PCs/softphones, with simple plug-and-play setup. If your headset is a Bluetooth UC version, here's your third option: connect the Bluetooth headset to the
MDA200
and you can make calls on your desk phone! Revolutionary!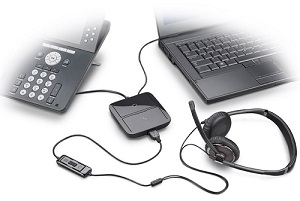 Businesses that are transitioning to softphones, yet need to keep a connection to the desk phone, will appreciate this nifty device that functions as a switcher and amplifier. And, with the overwhelming prevalence of the open office environment, we have customers ask if they can get an Active Noise Cancelling headset to use with their desk phone; with the MDA200, this is possible! Two options are the pictured
Blackwire 725
(corded USB) or the
Voyager Focus
(wireless Bluetooth UC).
The MDA200 is a future-proof investment in your Unified Communications toolbox, with firmware updates to keep the MDA200 up-to-date and always compatible.
Be aware that Plantronics has verified only certain headsets for use with the MDA200; however, in our small scale testing, we found that the MDA200 is compatible with other brands of headsets.
In our testing, we used a
Plantronics Voyager Focus
Bluetooth UC headset, a
Plantronics SupraPlus 251N
QD headset with
DA80
USB processor, a
Jabra Stealth UC
Bluetooth headset, and a
Jabra Evolve 40
corded USB headset. We connected the headsets to desk phone, PC, and in the case of the Bluetooth headsets, to our smartphones. All four of these headsets worked well with the MDA200: We experienced great call quality from desk phone, PC and smartphone, and excellent sound when streaming music from both PC and smartphone.
The possibilities are nearly endless, and quite exciting for those looking to utilize one headset with all of their communication platforms. The MDA200 is buyable on its own
here
, or in 2 different bundle combinations: the
Voyager Legend UC Bundle
or the
HL 10 Bundle
.
Contact us to learn more about the MDA200! 1-866-998-9991
9/12/2016 - 0 Comments
Congratulations on purchasing a new Plantronics Bluetooth headset! Your next step is to download the FREE Plantronics Hub app, which ensures connection between smartphone and headset. It also serves as a user guide/help desk for your new headset, and has some cool features, too.

Download the "Plantronics Hub" app from
App Store
(for iPhone); for Android Devices, Google Play store has it here:
Plantronics Hub
.
Once you have the app, turn on Bluetooth to pair the headset to your smartphone. Open Plantronics Hub, and select your Plantronics headset: the options are BackBeat, Explorer, M series, Marque, Voyager 5200, Edge, Focus, Legend, PRO HD headsets. Depending upon the headset you use, the features will be different. Immediately, your headset's talk time is displayed, so there are no surprises when you're on a call and lose battery power!
In our estimation, the coolest feature is
Find My Headset
. There are 2 options to locate the headset, either Send Tone (loud tone sent through earphones which is adjustable on the app) or BackTrack (retraces where the headset's been on a map).
A few caveats: the headset must be turned "on" to use Send Tone. The tone (an alert sound) can be difficult to hear, though fortunately, the volume is adjustable from the app. With a smaller headset, however, such as the Voyager Edge, the volume increase may not be enough to find the headset due to its smaller ear speaker.
Once you have found the headset, select "Found" on the bottom of the screen. A new screen will appear, with a congratulatory message: "Congratulations! You found your headset in 00:22 seconds" or however long it took to find the headset! If you did not find the headset, select "Not Found." A useful list of FAQs is displayed to assist you with recovery of your headset.
Plantronics Hub acts like a Help Desk for your Bluetooth headset, too. The
How Do I?
section lists answers to every possible question you can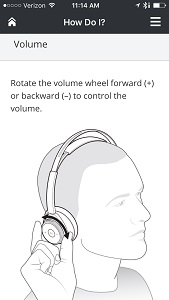 think of, including pairing, muting, configuring Active Noise Cancelling (if available) or the USB adapter, Call features and so much more. The
Buttons & Lights
tab is a diagram of the headset with a guide map is for quick identification of the pieces and parts on the headset.
Smart Sensor options can be managed from the app. Another customizable feature is the Mute Reminder. You can choose between Voice-activated, Timed (range is from every minute to every 15 minutes), or Off.
For additional functionality on-the-go, Plantronics Hub now supports the Apple Watch with the Plantronics Voyager Focus UC, Voyager Edge, and Voyager Edge UC Bluetooth headsets. Manage your headset call features from your wrist with your smartwatch.
The convenience of this app can't be understated, and provides great features at the best price: free. Let us know your thoughts on the Plantronics Hub app on the Comments tab above.
6/28/2016 - 0 Comments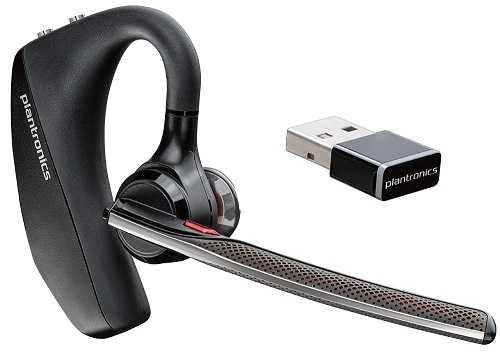 Plantronics continues to innovate Bluetooth headsets with its newest offering, the
Voyager 5200 UC
. Building on the success and functionality of the Voyager Legend headsets, the Voyager 5200 UC has six layers of WindSmart technology (double that of the Legend) and four adaptive microphones (one more than the Legend's three). Plantronics is not only focusing on mobile workers, but
everyone who is on the go and faced with unpredictable background noise
will find value in the Voyager 5200 UC. Clear conversations – despite background noise of the car, streets, or home and work environments – can be achieved with the right technology and device.
Ergonomic Comfort for all day wear
A nice design feature is the curved boom arm.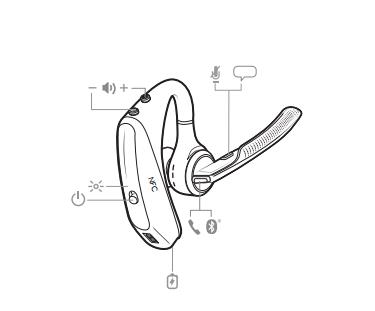 The mic boom arm and earpiece can be rotated for either right or left wear. The advanced Digital Signal Processing (DSP) technology reads each environment, and microphone, to isolate the wearer's voice. WindSmart technology reduces disruptive background noise, enabling seamless transitions between places.
Due to customer feedback, Plantronics has separated the placement of the Power button and Volume buttons: the volume buttons are now at the top of the headset. This prevents an accidental finger slip and a premature end to a call.
Download free
Plantronics Hub software
for Android or iOS to gain the full benefits of the 5200 UC. Intuitive voice commands, smart sensors that automatically route and answer calls, and hands-free functionality are what Plantronics is known for with its premium Bluetooth headsets.
The Voyager 5200 UC offers a standard 7 hours of talk time: an entire day's worth of conversation.
This UC version includes a portable charging case with integrated docking stand and the BT600 dongle to connect the headset to a PC. A micro USB cable and eartips (Small, Medium and Large) are also included in the box. MSRP is $219.95.
The Voyager 5200 UC is now available!
Contact us
for more information, and to place your order.
One of our customers mentioned this video as the determining factor in his purchase of the Voyager 5200 UC. On a call with him, he wore the headset while at work on a construction site. He stood 25 feet away from an excavator demolishing a house and we could not hear the construction noise; his voice was as clear as if he was sitting inside a quiet office. The Voyager 5200 UC delivers!
3/30/2016 - 0 Comments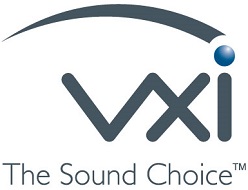 To continue providing the best service and support to our customers, Avcomm Solutions has recently brought the VXi brand into our product offerings as yet another option for headsets.
VXi Corporation
, founded in 1989 in Rollinsford, NH, stated its mission as creating headsets for contact center environments that were tough, low cost, and easy to manage. Since that time, VXi has continued to make gains in the headset market and is a well-recognized headset manufacturer, found most commonly in contact centers and semitrucks throughout the U.S. and Canada.
Here's what sets VXi apart from other brands:
The low price of the VXi headsets and accessories cannot be understated. Inexpensive, yet durable, VXi headsets are a great option for budget-conscious organizations. VXi reports a 2 percent breakage rate, which is similar to its competitors.
The Warranty period for VXi products is similar to its competitors in length; however, with VXi, an additional warranty time is allowed. For example, if call center and office headsets carrying a 2-year warranty fail within the first year of use, VXi replaces it with a unit carrying a FULL, 2-year warranty. If any call center and office headsets carrying a 2-year warranty fail at any time within the second year of use, VXi replaces it with a unit carrying a FULL, 1-year warranty.
Should a VXi wireless solution or accessory fail within its 1-year warranty period, VXi replaces it with a unit carrying a FULL, 1-year warranty. You've got peace of mind with VXi products.
VXi is the only headset manufacturer to offer headsets and bottom cables that connect to not only VXi products, but also to two additional brands: GN Netcom/Jabra and Plantronics.
These headsets and direct connect cords have pin configurations compatible with QD's of those brands. When choosing the correct headset or cord, V, P or G will be the choices: VXi, Plantronics or GN Netcom/Jabra. Y-cords, USB adapters, and more are all compatible with these 3 brands.
When deploying hundreds – or even thousands – of headsets concurrently, the packaging left behind from the headset boxes can be a real nuisance and mess to dispose of. VXi offers their headsets packaged 2 ways: the traditional box, and alternately in plastic bags. The smaller footprint of the plastic bags means it costs less freight to ship the headsets, and there is less packaging to dispose of once the headsets have been unpacked and set up at individual work stations.
You will notice on our web site that VXi headsets are marked either "Bulk" or "Box." It is the exact same headset; only the packaging varies.
Products unlike any other: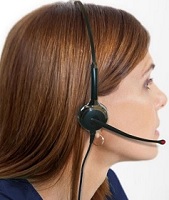 Corded USB Headset for Contact Center with Built-In Presence Indicator
In 2013, VXi introduced the patented UC headset with a built-in presence indicator, the only headset on the market with this LED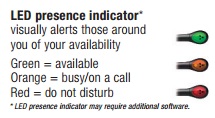 presence indicator. The indicator, built into the microphone boom, is the top-of-the-line
UC ProSet LUX
, a plug-and-play headset that gives you excellent sound quality— and a noise-cancelling microphone – across devices and media types. It visually notifies others if you're available, on a call or not to be disturbed. In-line call controls are a handy way to answer/end calls, mute the call and adjust the volume.
Lowest Price Wireless Headset
VXi's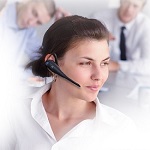 wireless headset, the
V150
, is the most economical wireless headset on the market today (MSRP $119.99). The V150 connects to desk phones and has a field-replaceable battery to extend the life of the headset for years. Three wearing styles included in the box – headband, behind-the-neck, and over-the-ear – allow the wearer comfort and personalization often found only in higher-end wireless headsets. We tested this product in our office and the sound quality,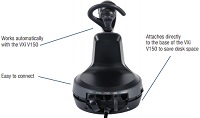 comfort, and range was really great! To answer and end calls away from your phone, (up to 300 feet away), purchase an EHS cable. The VXi EHS cable has an exclusive design that installs directly under the base of the V150 headset, so there is no cable clutter on your desk!
The Trucking Industry Loves BlueParrott
VXi has found success in the trucking industry, with the rugged

BlueParrott B250-XT
, introduced in 2007. This headset, available at most major truck stops and travel centers in the U.S. and Canada, has made it the #1 choice and most popular Bluetooth headset among professional truck drivers. Designed especially for high noise environments, BlueParrott headsets are an ideal solution.
The
Parrott Button
on the
B350-XT
can be set to your choice of mute, speed dial and more, with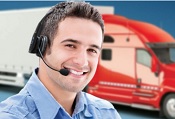 the free BlueParrott app for smartphones (both Android and iPhone compatible). The
app
also allows push-to-talk, similar to a walkie-talkie. You can also stream music or GPS directions to the headset; talk for 24 hours (!); and use with 2 cell phones, or a phone and PC at the same time.
We are excited to announce this new venture with VXi, and invite you to view the entire line of VXi on our web site here:
VXi Products
.