Showing posts tagged: Bluetooth
3/6/2019 - 0 Comments
Help your Jabra headset become smarter.
While you may be familiar with high-quality devices from
Jabra,
such as Evolve headsets and Speak speakerphones, you may not know that Jabra also provides innovative, AI-enhanced software that supports its USB (and Bluetooth with Link 360/370 adapter) products. Jabra Direct 2.0 is available now —
and, it's free
.
Core functions of Jabra Direct:
•Automatically get firmware updates so that your headset is always updated and secure.
•Personalize your headset settings according to personal preferences, or company requirements. Functions such as ringtone, sound optimization for music, audio protection level, sidetone level, and many more areas can be controlled.
•Remote call control (answer/end/call, mute, redial, etc.) for UC platforms.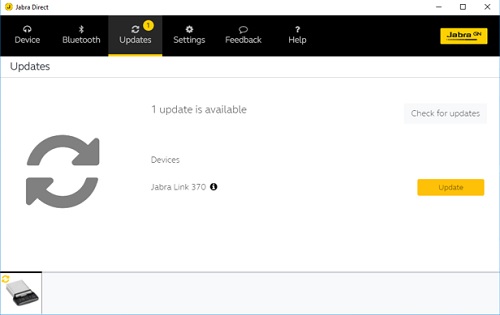 Jabra Direct has an intuitive, user-friendly interface that provides overall status of each connected device, and notifications of updates. To receive firmware update notifications, go to Settings and switch Update Notifications to "On." This alerts you to open Jabra Direct, and run updates as they are available.
Key updates in Direct 2.0:
Enterprises that use a proxy server, and those who prefer on-premise deployments, are now supported. Jabra Direct 2.0 will be able to connect to the Internet and receive settings and firmware in proxy-based environments. For enterprises that prefer not to be connected to the Internet, change settings or firmware updates on Jabra devices can be managed and controlled by the enterprise, within their firewall. Another update: Direct 2.0 provides data about end-user name and PC/Mac name, which is also then added as a service in Xpress 2.0. Additionally, Jabra announced that it has certified the handling of customer data in the Jabra Cloud with the SOC 2 declaration. Jabra is committed to protecting customer data against unwanted usage by a third party.
Download Jabra Direct 2.0 for Windows or Mac, from the
Jabra Direct
page.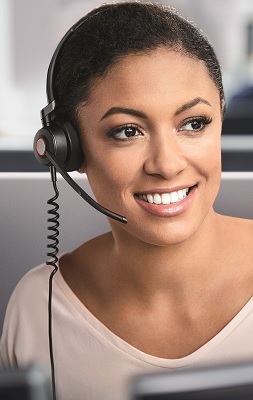 Jabra Engage 50
Jabra Engage 50 is a new generation of digital headsets that provide additional call analytic metrics. The Engage 50 is the first Jabra corded headset to have the chip in the headset itself, making it a true digital headset. The Engage 50 uses the very latest chipset, and this, along with the positioning of the chip, delivers enhanced functionality and user experience.
No longer are headsets an accessory to a phone system, simply transmitting human audio; they are now a "business critical element of the whole infrastructure," according to Jabra SVP Holger Reisinger. These digital devices provide call analytics that in some cases can listen to how people say things, extracting human sentiment from the human voice. Reisinger says that Jabra is providing proof of concept with new KPIs for the contact center, such as measuring agent friendliness against customer anger, in real time. Rather than recording calls and doing transcription analytics, this information is measured in real time and shown as a graph,
in front of the agent who is on the call
, so that the agent can adjust tactics, mid-call.
Jabra Xpress 2.0 Now Available
For organization-wide updates and inventory management, we recommend
Jabra Xpress
, a free online tool. Read all about Jabra Xpress on our blog, here:
Jabra Xpress: Mass Headset Deployment Made Easy
. This program allows IT staff to create software packages for remote updates, configurations and asset management of Jabra USB devices. Jabra Xpress has also been updated to a 2.0 version. To create an account to begin using Jabra Xpress, or update existing Jabra Xpress to the 2.0 version, go to the Xpress microsite:
Jabra Xpress 2.0
.
Jabra Direct 1.0 and Jabra Xpress 1.0 will be discontinued June 30, 2019. We recommend updating to the new 2.0 versions today. Please reach out to us with any questions you have about these updates, and let us know if you need any assistance: 1-866-998-9991.
2/1/2019 - 0 Comments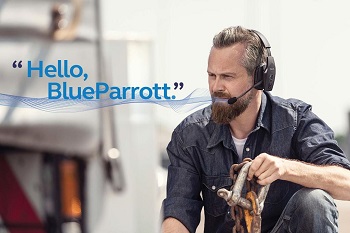 The words "Hello BlueParrott" are the beginning of a beautiful friendship ... with a new Bluetooth headset from
BlueParrott
.
This 5th generation BlueParrott headset, the new BlueParrott
B550-XT
, is the
world's first truly hands-free headset
. Use your voice to activate the headset and control calls, use GPS, music, voice assistants and more. This much anticipated headset will be valuable to people who drive for a living - and need to maintain contact with people at home, the office, and use navigation tools to arrive to the right place. Voice Controls such as "Am I connected?" "Redial" "Check battery" "Pair mode" "Call back" and others provide that hands-free convenience with commonly-used functions most Bluetooth headset users need. And, the battery life in this headset is phenomenal: up to 24 hours of talk time!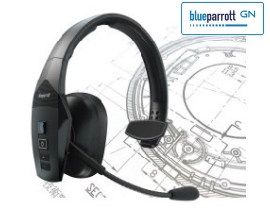 We like the noise-canceling microphones in BlueParrott headsets; BlueParrott reports that the mics have "96% noise canceling" and what we know for sure is that our customers like the clarity their conversations have. A flexible mic boom allows for precise mic positioning near the mouth. These headsets are found in every major truck stop in the United States, and more often than not, when we see truck drivers, they are wearing BlueParrott headsets. With some of the noisiest office environments in the world (tractor-trailers), this is the seal of approval and assurance that BlueParrott is a top quality brand with loyal customers.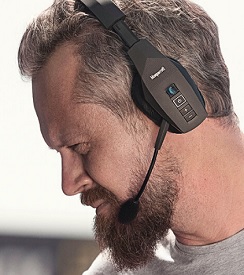 The BlueParrott button on the ear speaker is customizable with the BlueParrott app; there are also volume up and down buttons and in between those buttons, there is a Power and Answer/End button. The app is available as a free download in the Apple App Store and on Google play.
The headset is packaged with a USB charging cable, foam ear cushion, microphone windscreen and a Quick Start Guide.
Call us at 1-866-998-9991 to speak with one of our headset experts today and purchase your B550-XT!
12/11/2018 - 0 Comments
Tough work environments require tough headsets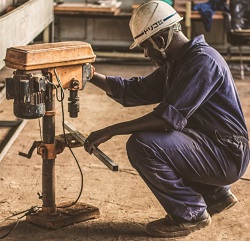 High-noise work environments can be intense.
Whether it's driving down the road in an 18-wheeler or working in a noisy warehouse – and other similarly loud environments – error-free communication and collaboration is challenging. Most of us are faced with colleague interruptions that impact productivity, but workers in high-noise environments are also faced with interruptions from equipment, or unconventional surroundings. Safety regulations in the workplace are progressively more restrictive and workers in high-noise environments have indicated that easy, hands-free group communication is of the utmost importance.
BlueParrott mobility-focused headsets are solving these challenges
for people in a variety of industries: professional drivers, utility technicians, retail floor help, hotel housekeepers and concierge staff, and warehouse order pickers.
BlueParrott
, a leader in intelligent and rugged headsets, offers microphones with unrivaled noise-cancelling technology and deliver superior call quality in high-noise environments. These headsets connect to rugged smartphones, tablets and mobile computers, land mobile radios, handheld scanners, and other mobile devices.
Professional Truck Drivers
Professional truck drivers have preferred BlueParrott headsets for years.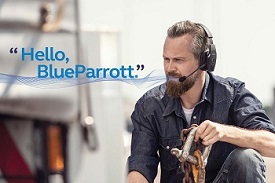 Strong and stable enough for life on the road, the wireless Bluetooth headsets feature long battery life and up to 24 hours of talk time (depending upon the headset). With hands-free call and text bans in effect around the U.S., drivers of all kinds – from local delivery drivers to Over-the-Road truckers – must use headsets for communicating.
Some of the top choices for drivers are
B450-XT
,
B350-XT
and the
B250-XTS
.
Another recommended headset is new to the market: the
B550-XT
, the world's first 100% hands-free headset. Simply by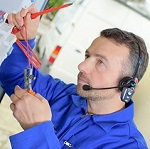 saying "Hello BlueParrott," tell your headset to "Call" contacts within your phone's Address Book. In addition, the
C400-XT
is a great choice for people who prefer a choice in wearing style: the C400-XT can be worn behind the neck (over the left or right ears), and over-the-head.
Field Service Workers
Construction workers, foremen, linemen, and others who work on job sites would all benefit from the use of these same headsets.
Retail and Hospitality Staff
The
C400-XT
is the perfect hands-free, Bluetooth-enabled headset for those who clean hotel rooms, concierge staff, and retail sales floor workers. Its discreet profile, and trio of wearing style options, offer some flexibility and customization.
Warehouse Operators and Order Pickers
The headset needed for these workers depends upon the picking device that's being used, and so there are 2 categories for the warehouse worker:
Corded
or
Bluetooth Wireless
.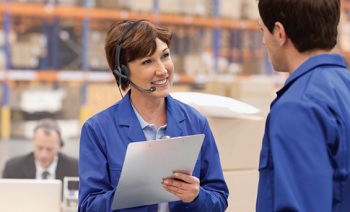 Corded headsets include the
VR11
,
VR12
, and
VR12F
, a freezer-rated headset for environments down to -22 degrees. These headsets have been "drop and tumble tested," having been dropped 8.2 feet onto concrete across the operating temperature range, and tossed 500 times across approximately 3 feet for 1,000 hits.
If the connection type needed is Bluetooth, then these wireless headsets are recommended:
B550-XT
,
B450-XT
and
C400-XT
.
Supported by the latest in headset technology
Keep BlueParrott headsets updated (via USB) with the free software program,
BlueParrott Updater
. Install the BlueParrott Updater on your computer (either PC or Mac), and ensure your BlueParrott headset always has the latest features and functions. The BlueParrott Updater download is available free, here:
BlueParrott Updater
.
The BlueParrott App is available in Apple and Android versions, at no cost. If your headset has a Parrott Button, customize the operation of the Button within the app. The headset is configured out-of-the-box with the Parrott Button configured to mute, and will mute the microphone while both off or on a call.
There is a walkie-talkie feature as well. For all Parrott Button questions, refer to the Help page:
Parrott Button How-To
Each headset is protected with a one-year warranty for peace of mind.
Contact our headset experts about BlueParrott headsets, today: 1-866-998-9991.
10/5/2018 - 0 Comments
Tune out of a distracting environment, and tune into your work, with these headsets from Plantronics.
Active Noise Canceling
technology has crossed over to the business professional world, due to demand from professionals who require a space to concentrate, as well as headsets with noise-canceling microphones for premium call quality. The Active Noise Canceling (ANC) helps block out distracting sounds, creating a "quiet zone" to enhance productivity, no matter the environment.
According to Plantronics, a study out of the University of California shows that it takes an employee
23 minutes
to recover from a distraction and get back to the task at hand, and that a majority of employees get distracted at least once a day. With these real-world statistics in mind, Plantronics created a calculator that helps you get an idea of how much noise is affecting your company's profitability. Check it out:
ROI Calculator
Overview of Plantronics headsets with ANC: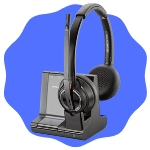 Savi 8220
• Use with Desk Phones, PCs, and smartphones/tablets
• Headband
• Wireless
• Noise-canceling mic with close conversation limiting
• Up to 13 hours talk time
• Conference in 3 additional Savi headsets
•
UC
and
Microsoft-certified
versions
• MSRP: $459.95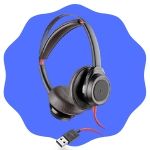 Blackwire 7225
• USB-A or USB-C
• Boomless mic design
• Four microphones detect noise from all directions and separate noise from the speaker's voice
• Call controls on the headset
• Voice alerts
• Choice of color: Black or White
• MSRP: $199.95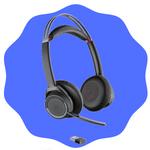 Voyager Focus UC
• Bluetooth and USB (with included dongle)
• Comfort headband
•
UC
and
Microsoft-certified
versions
• Smart mic boom: wear boom on either side and maintain right/left stereo performance and locations of volume/track buttons
• Oversized soft leatherette ear cushions
• Headset and Charging Stand available:
UC
or
Microsoft
• MSRP: $279.95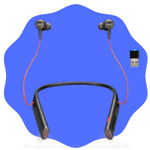 Voyager 6200 UC
• Bluetooth and USB (with included dongle)
• Neckband vibrates to signal an incoming call.
• Ear buds
• Intuitive controls
• Choice of color:
Black
or
Sand
• MSRP: $299.95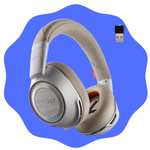 Voyager 8200 UC
• Bluetooth and USB (with included dongle)
• No microphone design features a 4-mic array for voice pick-up
• Large ear cushions completely surround the ear
• Choice of color:
Black
or
White
• MSRP: $379.95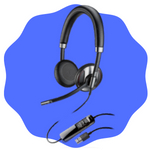 Blackwire 725
• USB
• Headband
• Corded
• Foldable ear cushions for travel
• In-line Call Controls
• Smart Sensor Technology lets you answer the call by placing the headset on your head
•
UC
and
Microsoft-certified
versions
• MSRP: $179.99
All of these headsets, with the exception of the Savi 8220, come with carrying cases to protect the headsets in and out of the office.
If you're not sure which Plantronics ANC headset is right for you, give us a call at 1-866-998-9991, and our headset experts can help!
9/18/2018 - 0 Comments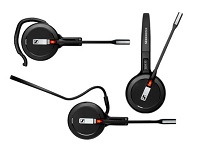 Sennheiser office and contact center headsets are high quality products with premium sound, and the new SDW 5000 DECT wireless series is no exception.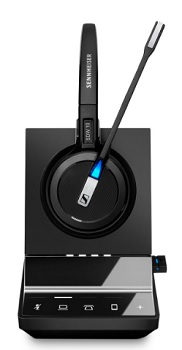 Sennheiser positions the SDW series as future-proof devices with flexibility for modern office professionals in modern work environments.
Density and advanced security are the hallmarks of the series; a high density wide band mode assures excellent sound is possible in high density environments and the protected pairing, 128-bit authentication and DECT security certification keep conversations confidential.
Choose between the
SDW 5015
for desk phone and computer or the
SDW 5016
for desk phone, computer, and smartphone/tablet.
Product highlights:
Remarkable noise-canceling mic:
In our testing of the
SDW 5016
(MSRP: $409.00), we were amazed at the exceptional noise canceling in the microphone. We walked through our noisy warehouse with the normal background sounds of people speaking and a cart being pushed and loaded with products among the shelves, and
the noise was not transmitted to the person on the other end of the call
. This is because of the headset's two-mic design and cutting edge voice-detection technology. If you work in a noisy office, this is the perfect headset.
Warranty:
Sennheiser wireless headsets are covered by a 2-year warranty, double the industry standard.
Videos:
Sennheiser has produced a series of short YouTube videos that cover everything from how to assemble and wear the 3 included wearing styles* (headband, neck band, and ear hook), to how to handle, conference, and transfer calls. Another video highlights the different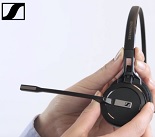 devices (USB and Bluetooth headsets and speakerphones) that can be connected to the SDW 5000 base. These videos are invaluable resources for SDW 5000 series headset wearers, who should bookmark the page for easy access:
SDW 5000 Series Playlist
.
Free software for headset updates:
HeadSetup Pro is the must-have companion software for all of your Sennheiser devices. The FREE software download is compatible with Windows operating systems. Download the software now:
HeadSetup Pro
.
Sennheiser included a built-in triangular busy light on the mic boom that turns Red when busy; Purple when streaming music; and Blue when the headset is docked on the base.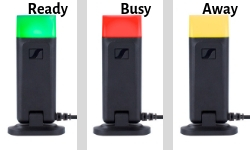 New to the Sennheiser product line is a
Busylight
designed for the SDW series. Connect it to the Busylight port (marked in blue) at the back of any of the SDW base units, and your presence is immediately indentified as Red (Busy), Green (Available), or Yellow (Away). It can be attached to a computer monitor, or placed on a desk. It is UC and Skype for Business certified.
Ready to learn more about Sennheiser SDW 5000 headsets? Give us a call at 1-866-998-9991 and talk to one of our headset experts today!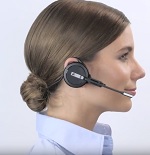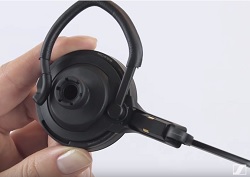 *SDW 5015 comes with the ear hook and headband only; the neck band is an optional, additional purchase.