5/3/2018
Sennheiser has lowered pricing on their single-connection wireless headsets, and it's time to take a closer look at this series.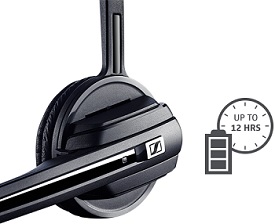 The streamlined design of the Sennheiser D 10 wireless DECT headsets makes no compromises when it comes to exceptional sound. Its single connectivity to either a desk phone or softphone/PC makes it easy to "plug and play" ... simply roll out and manage — the perfect headset solution for all sizes of companies. D 10 puts the freedom of a wireless solution within reach of even more everyday users.


Why Wireless?

We recommend wireless headsets for businesses and contact centers alike, for several reasons.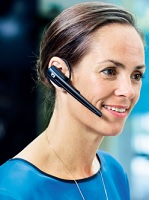 The freedom that a wireless headset allows — such as leaving your desk to grab a file, consult a colleague, or pick up a product from a product table to provide customer support — can all be accomplished while helping customers during the phone call. Placing someone on hold for extended periods of time is no longer necessary!

Another benefit of using wireless headsets is the conferencing feature. Did you know that you can conference up to three additional wireless headsets to the same base unit, for a total of four users on the same call? Wow! No cords are necessary; the process is a simple docking on the main base unit during an active call, accept the additional headset(s) and boom! You're on the call. To end the conferencing feature, simply end the call and turn off all of the headsets.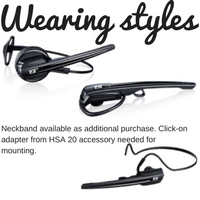 The headset comes with two wearing styles: ear hook and over-the-head band. A neckband is also available, as an additional purchase. Please note, the click-on adapter from the HSA 20 accessory kit is needed for mounting the headset to the neckband.

D 10 comes in 3 variants:

D 10 PHONE connects to desk phones. An EHS cable or handset lifter can be added to the order, so that you can answer and end calls away from your desk. Which one you need depends upon your desk phone; contact us and we can help determine what you need for remote answer capabilities.
D 10 USB connects to a PC or laptop. Sennheiser software can be used to upgrade the headset firmware, which is available at no charge. The Software Updater can be found on Sennheiser web site; scroll to the Download End User version.
D 10 USB ML connects to a PC or laptop and is the Microsoft-certified headset for Skype for Business/Lync. It is fully compatible with the Microsoft platforms.
With this new lower pricing, wireless headsets are a cost-effective option! The D 10 series from Sennheiser has a lot to offer — at a great price. Contact us today!
TAGS: Sennheiser, D 10, Wireless, DECT, Headsets, Desk Phone, USB, Microsoft, Skype for Business