3/3/2014
In our previous post, we shared the three main types of microphones found in office and contact center headsets: see Part 1 here. The type of microphone you choose depends on your work environment and job requirements. Another important element in audio quality is the placement of the microphone to assure that your voice is heard loud and clear.

According to Plantronics, the single biggest real-world cause of poor transmit audio is not technical; rather, it is poor microphone placement by the user. As microphones offer higher degrees of noise cancelling, they demand greater proximity and consistency of microphone placement so that the talker does not become part of the very background that is being cancelled.

Proper microphone placement is particularly important in directional microphones with noise-cancelling properties. These microphones reject background noise and bring the user's voice to the foreground. The microphone boom should be adjusted so that it is 2 finger widths from your bottom lip.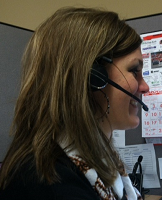 1. Flex boom models have flexible booms that are easy to bend and can be reshaped until they are near the user's mouth. Here, the Jabra PRO 9450 Mono Headset with Flex Boom is pictured.

2. Fixed boom arm models rotate from the receiver, and should not be bent. The boom arm should point directly at the user's mouth. Pictured here is Sennheiser's SC 660 USB CTRL Century Series Ultra Noise Cancelling Duo USB Headset with In-Line Call Controls.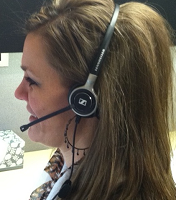 Jabra reminds new headset users that they won't need to talk as loudly as when speaking into a handheld phone. When the microphone has been positioned correctly close to the mouth, your voice will be picked up clearly – even at a lower volume.

Headsets help you to communicate clearly and effectively. Research the right microphone for the work you do, and purchase a high quality commercial headset that meets your requirements. Take that extra step of assuring correct placement of that microphone with a simple adjustment and your caller will thank you!

For more information about the proper care of your headset, and correct microphone positioning, Jabra offers this handy one-page document.
TAGS: Microphone, Microphone Placement, Flexed Boom Arm, Fixed Boom Arm