9/29/2020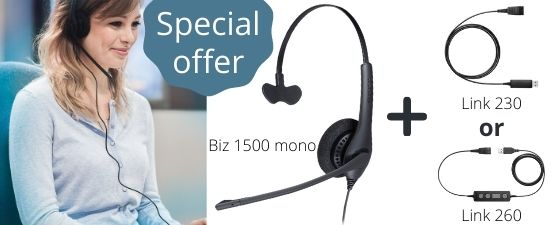 For a limited time, Avcomm Solutions is offering phenomenal pricing on these Jabra USB solutions. Choose a Biz 1500 mono headset, and one of these QD-to-USB connecting cables: either the Link 230, or the Link 260 with call controls.

These special bundles are available now, while supplies last:
GN1513-0157 + GN230-09 is $89.95 w/ FREE Ground Shipping
GN1513-0157 + GN260-09 is $109.95 w/ FREE Ground Shipping

The Biz 1500 series is a lightweight, entry-level corded headset with a flexible, noise-canceling microphone. The foam ear cushion keeps ears cool for all-day wearing comfort. These reliable headsets can be worn on either the right or left ear according to the user's preference, thanks to the 270-degree boom arm that is easily adjusted without breaking. They are study headsets that can be connected to computers with a QD-to-USB cable.

For this special offer, choose between a Link 230 or Link 260. The Link 230 (GN230-09) connects the QD headset to a PC, and enhances the headset's audio: acoustic shock protection and Digital Signal Processing (DSP) for greater intelligibility, and noise filtering for a cleaner, distortion-free and smooth audio experience.

The Link 260 (GN260-09) offers the same audio protections, and includes call controls for one-touch call handling. At the press of a button you can answer/end calls, put calls on hold, adjust volume and mute the microphone. With a free download of Jabra Direct, all of the buttons can be programmed to perform user-defined tasks such as "Call on hold", "Reject incoming call", "Redial last number" and/or "Dial voice mail" – or to comply with commands in future softphones.


To place an order for these USB headset bundles, call our Headset Experts at 1-866-998-9991 or place an order online.
TAGS: Jabra, Biz 1500, Biz 1513, Biz 1500 Mono, corded headset, Link 230, Link 260, USB, USB solution, Communication Is Our Business