11/23/2020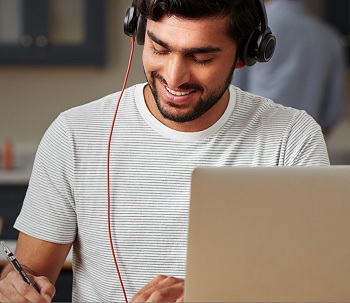 The Blackwire headset series are all-in-one USB headsets from Poly, and have been a standard for office workers who need a high quality headset with great sound. The series continues to transform with the latest technology available, as well as premium design and connection features.

The new company name, Poly, is the result of Plantronics and Polycom joining together. Poly, which means "many," leverages the legendary audio and video expertise of Plantronics and Polycom and its breadth of smart endpoints that connect across and between unified communications platforms to reduce the distractions, complexity, and distance in the modern workspace.

All of these Blackwire headsets offer a two-year warranty, connect via USB or USB-C (learn about the latest USB connection type, here); and most come with carrying cases for storage and protection during travel. The Certified for Microsoft Teams headsets seamlessly integrate with Teams and offer headset control functionality. They also meet the Microsoft Teams Open Office certification levels.


8225 Series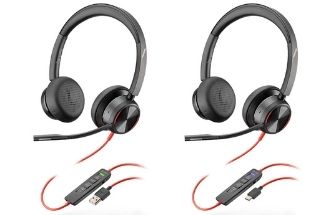 If you're working from home and need to block out the sound of family members moving around you, the technology in Blackwire 8225 headsets have you covered. The noise-canceling microphone with Acoustic Fence technology puts you in a quiet office, even if you are not. Hybrid Active Noise Canceling (ANC) makes it easy to escape the noise around you: there are three ANC settings (toggle between Off, Mid, and High levels on the side of the call controller), that help you create the best quiet zone.

This is a comfortable headset. The padded headband has soft leatherette ear cushions, with adjustable headband and 180-degree pivoting speakers to easily fit all users. We also like the status indicators (busylights) in the ear speakers that alert others when you are on a call. These two LED indicators keep you distraction free.

Blackwire 8225 USB-A
Blackwire 8225 USB-A Certified for Microsoft Teams
Blackwire 8225 USB-C
Blackwire 8225 USB-C Certified for Microsoft Teams


7225 Series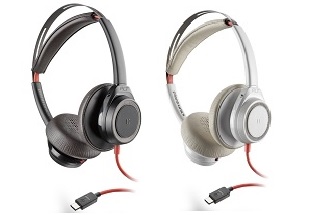 These headsets have a unique boomless mic design: the first of its kind in the corded headset market. As collaboration increasingly takes place via video, there was demand for a professional corded headset with a boomless mic. It is extremely important to wear the headset with the "R" ear speaker on your right ear, because the microphones are built into the front of the headset's speakers, creating a four-microphone array for best voice pick-up.

The 7225 headsets offer Active Noise Canceling that can be activated when needed. When you need to quickly listen in to your surroundings, push the red Open Mic button found on the bottom of the left ear speaker; and then press it again to return to your quiet headset. Another unique feature in the new Blackwire 7225 headsets: rather than an in-line call controller, all audio and media controls are on the ear speakers.

Blackwire 7225 USB White
Blackwire 7225 USB Black
Blackwire 7225 USB-C White
Blackwire 7225 USB-C Black


5200 Series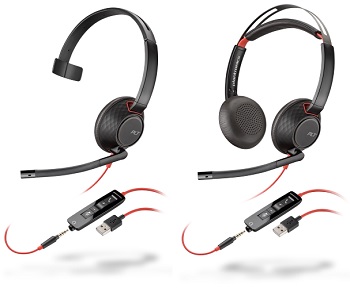 Blackwire 5200 headsets also offer excellent sound - both inbound and outbound - with a flexible mic boom featuring noise-cancelling, so background noises aren't transmitted to your callers. Listening to music is an enjoyable experience with this headset, too.The duo headsets offer a comfortable "sling" metal headband; both mono and duo have large ear cushions made of ultra soft leatherette wrapped around memory foam. This headset is a dream for all-day wearing comfort! All of the variants connect to both USB/USB-C and 3.5mm, which unplugs from the in-line call controller.

Blackwire 5210 USB and 3.5mm
Blackwire 5210 USB-C and 3.5mm
Blackwire 5220 USB and 3.5mm
Blackwire 5220 USB-C and 3.5mm


3200 Series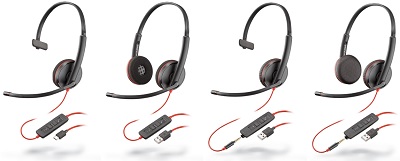 Blackwire 3200 headsets are the entry into the Blackwire world. These are great headsets, and there is some variety within the 3200 line: all of these headsets are available in either USB or USB-C variants; the Blackwire 3215 and 3225 have the additional 3.5mm connection for mobile phone and tablet use. The foam ear cushions on the 3210 and 3220 are lightweight and breathable. The ear cushions for the 3215 and 3225 are leatherette and fold flat for placement in the included carry case.

Blackwire 3210 USB
Blackwire 3210 USB-C
Blackwire 3220 USB
Blackwire 3220 USB-C
Blackwire 3215 USB and 3.5mm
Blackwire 3215 USB-C and 3.5mm
Blackwire 3225 USB and 3.5mm
Blackwire 3225 USB-C and 3.5mm

No matter which Blackwire headset you choose, we recommend that you download the free Plantronics Hub software. There are downloads for both Windows and Mac operating systems. Hub software allows you to customize settings and get visible status of your Plantronics audio device on your desktop. It also pushes out firmware updates to keep your headset always up-to-date.

If you're ready for a new Blackwire headset, contact us and we'll help you determine the best Blackwire headset for your unique needs.
TAGS: Plantronics, Poly, Blackwire, USB, USB-C, 3.5mm, PC, Mobile Phone, Tablet, Active Noise Canceling, ANC, Open Mic, Boomless Mic