5/7/2019
Avcomm Solutions staffers have been celebrating college and high school graduations with their family members this month, and we have heard some great commencement speeches. Typical advice shared by graduation speakers is that the end of formal education doesn't have to be the end of learning. This is especially true today, as there are many opportunities to learn — from home — at our fingertips. And, many are available at no cost!

Learn a foreign language with the Duolingo app; iTunes U offers everything from Introduction to Psychology to Woodworking; Coursera is used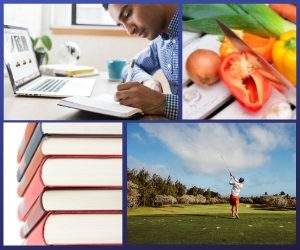 by Fortune 500 companies for professional development; and YouTube videos are another way to learn everything from how to tie a bowtie to playing guitar and checking tire air pressure.

One of our employees likes Master Class, which offers online classes from experts. She especially likes the cooking and wine classes taught by Gordon Ramsey. Other employees take dance classes with their spouse; host foreign exchange students to learn about other cultures; and take golf lessons at a nearby municipal golf course.

The benefits of learning new languages, skills, sports and ideas have the potential for new relationships, world travels, career advancement, and more. Your brain also benefits from learning, because the neurons are stimulated and form more neural pathways, which slows aging.

With all of these advantages, and opportunities to learn, our advice is that today is the day to learn a new skill and invest in yourself. Now, go out there and make us proud!
TAGS: Graduation, Lifelong Learner, Education, Professional Development, Lifelong Learning, Communication Is Our Business