2/19/2019
With 10 years in the headset business, headsets are our bread and butter. Of course, it makes sense that we see value in, and appreciate the use of, headsets. We came up with a (brief) list of reasons why we love headsets; and we are curious why others love their headsets. Share the reason why you love your headset on the Comments tab, above.

Headsets increase productivity. Studies show that workers using headsets are up to 40 percent more productive than those who don't. Headsets, especially those with integrated busylights, or used with external Busylights displayed on monitors or cubicle walls, are a clear notifier of status ... red means "do not disturb." Productivity increases without interruption.

Headsets produce clear conversations. Headset microphone technology has been designed to cancel background noise and focus on human voices, for the best possible audio experience.

Headsets protect hearing. Each headset brand has its own patented technology, providing hearing protections that guard against sound spikes and other sound hazards.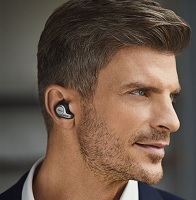 Headsets provide quiet work spaces. If we can't erect walls and a door around our desk, we can put a headset on our ears and block background noise. To really get the benefits of a quiet work space, we suggest an Active Noise Canceling headset. Read a round-up of all of the ANC headsets we offer here: Active Noise Canceling - The New Trend in Office Headsets.

Headsets support correct body alignment and good posture. One of the most important things about body mechanics and posture is alignment: how the head, shoulders, spine, hips, knees and ankles line up with each other. Proper alignment of the body puts less stress on the spine for good posture.

Headsets reduce stress. Noise can cause stress: ringing phones and conversations affect the rhythm and rate of our hearts. Interruptions cause stress. Open offices and the noisy environments they produce cause stress. By sealing yourself away from the noise with a headset, stress levels are lessened.

Headsets are a fashion statement. Headsets can represent a certain cool, edgy, "don't bother me, I'm busy" vibe. And, with all of the wearing styles available today, there truly is a headset for everyone: from ear buds to headbands, and everything in between, you can choose your look.

If you're not feeling the headset love, it may be time for a new, high quality, professional headset. We offer the top brands: Jabra, Plantronics, Sennheiser, BlueParrott, and VXi, and work with our customers to ensure the best fit for each environment and connection type. Give our headset experts a call today at 1-866-998-9991.
TAGS: Love Your Headset, BlueParrott, Jabra, Plantronics, Sennheiser, VXi, Stress, Ergonomics, Quiet, Hearing Protection, Clear Conversations, Productivity