5/3/2016
Don't get caught in the middle of a conversation and drop the call due to a dead battery in your wireless headset! Wireless headsets have enough talk time to complete your agent's workday and this quick read shows you how to establish guidelines for prolonging battery life in wireless headsets. You'll also learn how to recharge wireless headsets in a multiple shift environment.


Tips to Conserve Power and Extend Talk Time
Narrowband vs. wideband mode (10 hours talk time in narrowband vs. 7 hours talk time for wideband!)
Lower the wireless range

If connected to a desk phone, use EHS (electronic hookswitch) or RHL (remote handset lifter). Not only can you answer and end calls remotely with the use of these devices, when you're not on a call, the RHL or EHS force the headset into standby mode. This is significant power savings when compared to the active audio mode.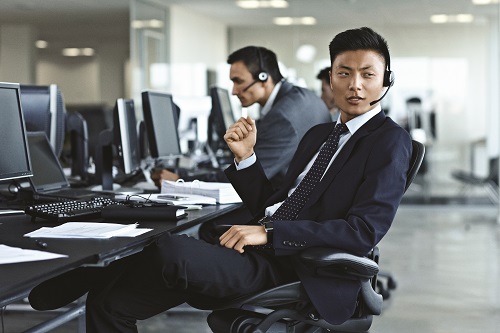 Wireless Headsets in a Multiple Shift Environment
Purchase only the number of wireless headset systems that you need for each desk – not for each employee. Then, purchase additional headsets so that there is a 1:1 ratio of headset to employee.

With additional charge bases, a charging station can be set up in a convenient centralized location for all users. Once the agent has completed their shift, they can dock their headset in the charging station. The next agent can then pair their headset to the base at the work station and talk for up to 10 hours. After their shift, they then can dock their own wireless headset in the charge station.

Plantronics offers the hot swappable battery kit for Savi 740/745 and CS545XD models, which means that the battery can be changed during the call! An adaptive power system in the CS500XD (high density) models optimize for range and talk time by automatically downshifting to low power when the headset is close to the base which saves battery life.


Benefits of Wireless Headsets in Contact Centers
Hygienic
Allows for multiple shift work environments
Increased Productivity with wireless freedom – ability to "talk and walk" to a product table, supervisor, file room, copy machine, etc.
Conference up to 4 headsets to the same wireless base for collaboration on calls – especially useful for managers, trainers, coaches, or supervisors.
Our headset experts can help you choose wireless headsets and charging units that best fit your environment. Contact us for our expert advice: 1-866-998-9991.
TAGS: Wireless Headsets, Talk Time, Contact Center, Wireless