2/18/2016
It's Monday morning, and Avcomm team members are grabbing cups of coffee, and settling in for a discussion … about a book. Maybe not a typical business discussion, but here at Avcomm Solutions, we continually search for ways to best serve our customers. We've found one way to serve customers is to educate and inform our employees. Training sessions, weekly meetings, and our latest venture, a book club, all serve both customers and employees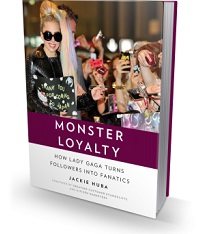 by bringing knowledge to the table.

We have begun our book club with "Monster Loyalty" by Jackie Huba. Sara brought the excitement about Huba back to the office after seeing her speak about Monster Loyalty at the 2015 SOCAP Annual Conference in October. "Monster Loyalty: How Lady Gaga Turns Fans Into Fanatics" likens Lady Gaga's rabid fan base to creating and maintaining a strong customer base at the business level.

Huba's main premise: Lady Gaga's core fans, called the One Percenters, are her primary focus; as a business, you need to be focused on your One Percenters, too. How do we create advocates for our business, who will in turn evangelize for us?

Gaga, known for wild costumes (meat dress, anyone?) and completely "out-there" stage makeup and hair, can be off-putting to some. When you look past her appearance and stage antics, her raw talent and incredible marketing ability ensure that Gaga will survive the "pop star" test of time. By sharing core values, building a community, being transparent, connecting to emotions, and other innovations, Gaga is an exemplary entrepreneur.

Each week, our book club members complete the assigned reading (approximately a chapter a week) and then come together as a group to discuss what we read. Our book club is a small group of about 8 people who represent marketing, social media and upper management. We felt that it was important to not limit the book club to management only, which has proven to be very valuable. It has been interesting to not only discover others' takeaways from the readings, but to also cultivate new ideas and learn about what is happening within our own organization.

With only two chapters discussed, there are plenty of more good ideas that are bound to surface as we delve deeper into the material in the months to come.

Tell us: do you have a company book club, or another way to meet and discuss ideas within your organization? Do you have suggestions for Avcomm's next book selection? Share them with us on the Comments tab.
TAGS: Avcomm Team, Team Building, Book Club, Professional Development